New 2022 Tax Savings On A New Buick For The State of Illinois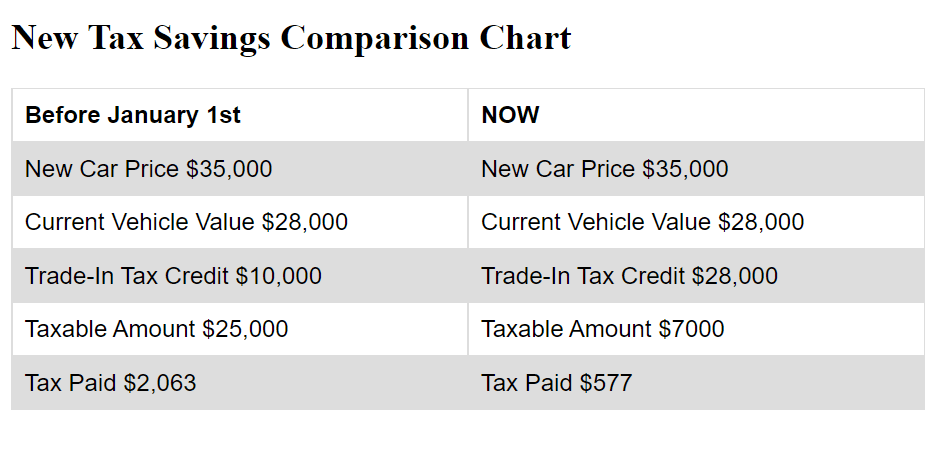 2022 began with fireworks in Illinois thanks to the start of a brand-new tax law that puts more money in your pocket. With so much to save and historically competitive offers being made for pre-owned vehicles, there's never been a better time to trade up for a new GMC or Buick car.
Making Sense of Tax Credits
A tax credit on a car is an incentive provided by the state that allows consumers to save money when trading in a used vehicle for a new vehicle at Buick car dealerships like ours. This helps both shoppers and dealerships to create a competitive and healthy used vehicle market that maximizes customer value.
Seller's Market
The market for used vehicles is heating up. If you haven't gotten an appraisal on your used car, you might be surprised to learn how much it's worth. Give us a call to schedule your appraisal today.
The New Tax Law and Your Trade-In
Before January 1st, 2022, the state of Illinois had a $10,000 maximum on tax credits on trade-ins. That means that the taxable amount paid at the time of purchasing a new car with a trade-in was the difference between the price of a new GMC Acadia or other vehicle and, at most $10,000.
With the cap removed, the taxable amount at the time of purchase is calculated as the difference between the price of the car you are purchasing and the value of your trade-in. That translates to enormous savings in terms of taxes paid when trading up to a new vehicle.
Still Owe? Don't Worry
Even if you owe money on your current vehicle, we are willing to work with you and make a competitive offer that will get you on the road in a new Buick or GMC car in no time at all.
By way of example, if you were to trade in a vehicle worth $28,000 toward a fine new Buick valued at $35,000, you would be eligible for a $28,000 tax credit, resulting in a tax paid of $577. Last year, the same trade-in would require paying taxes of over $2,000. Now that is a savings worthy of a celebration.
Let Zeigler Buick Help You Save
Many of our customers end up saving thousands of dollars this way. If you're interested to learn more about how we can help you save on your next GMC or Buick car don't hesitate to reach out to us online or over the phone.
If you're looking to trade in your vehicle, no matter the make or model, give us a visit at Zeigler Buick GMC of Lincolnwood for a competitive offer on your trade-in. Be sure to ask about our Buick financing offers, which help make these fine vehicles even more accessible.